Product Details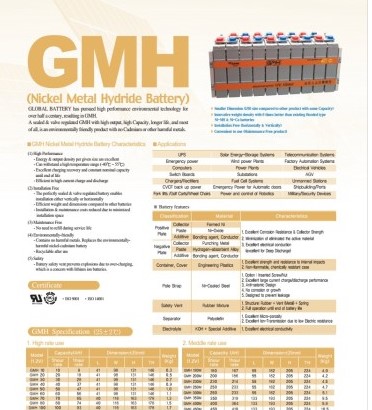 - Volume of 1/10 compared to the conventional product of the same
capacity!
- Innovative weight density more than 6 times compared to the 
conventional product! (Compared to the conventional liquid type
Ni-MH, or Ni-Cd battery)
- Possible to arrange vertically and horizontally freely!
- Convenience in maintenance and repair due to completely free of repair!
Comparison of the merits of GMH
USE
Uninterruptible power supply system (UPS) / Storage of power from photovoltaic power generation / Electrical communication system / Emergency power / Storage of power from wind power generation / Factory automation system / Computer power / Power from hydro-electric power plant or thermal power plant / Electric vehicle / Power for telephone exchanger / Power of transformer station / AGV (Automated guided vehicle) / Charger and rectifier / Fuel cell power system / Unmanned base station / Reserve CVCF uninterruptible power supply / Emergency power for automatic door / Power for shipyards and ports / Forklift, Golf cart, electric wheel chair / Power and control of robot / Military and security device
Cell Specifications (20℃)
Types
Voltage
Capacity(AH)
Dimensions(mm)
Weight(Kg)
5Hr
20Hr
L
M
H
TH


GMH 20
1.2
20
18.6
41
98
131
146
0.6
GMH 30
30
28
41
98
131
146
0.8
GMH 40
40
37
41
98
131
146
1.0
GMH 50
50
47
41
98
131
146
1.1
GMH 60
60
56
41
98
131
146
1.2
GMH 80
80
74
40
116
163
178
1.6
GMH 100
100
93
40
116
163
178
1.8
GMH 120
120
112
49
134
175
190
2.3
GMH 130
130
121
49
134
175
190
2.4
GMH 150
150
140
49
134
175
190
2.7
GMH 180
180
167
55
182
205
224
3.8
GMH 200
200
185
55
182
205
224
4.2
GMH 230
230
210
55
182
205
224
4.6
GMH 250
250
230
55
182
205
224
4.9
GMH 300
300
275
55
182
205
224
5.2
GMH 400
400
360
107
182
205
224
9.0
GMH 500
500
450
107
182
205
224
10.5
GMH 1000
1000
900
211
182
205
224
22.2
12V Module Specifications (20℃)
Types
Voltage
Capacity(AH)
Dimensions(mm)
Weight(Kg)
5Hr
20Hr
L
M
H
TH


GMH 20
1.2
20
18.6
402
106
131
148
7
GMH 30
30
28
402
106
131
148
10
GMH 40
40
37
402
106
131
148
11
GMH 50
50
47
402
106
131
148
12
GMH 60
60
56
402
106
131
148
13
GMH 80
80
74
394
124
163
180
17
GMH 100
100
93
394
124
163
180
19
GMH 120
120
112
485
142
175
194
25
GMH 130
130
121
485
142
175
194
30
GMH 150
150
140
485
142
175
194
34
GMH 180
180
167
289
190
205
228
20
GMH 200
200
185
289
190
205
228
23
GMH 230
230
210
289
190
205
228
25
GMH 250
250
230
289
190
205
228
27
GMH 300
300
275
289
190
205
228
28
GMH 400
400
360
107
190
205
228
47
GMH 500
500
450
107
190
205
228
55
GMH 1000
1000
900
211
190
205
228
112